First, the Yotta Bonus.
Use code: INFINITEDISCOUNTS and get 100 free tickets. The 100 tickets will help increase your chances of winning more in the next Yotta Savings drawing.
Don't miss out on PrizePool, which may have better yields than Yotta. See below.
What is Yotta Savings?
Yotta Savings is a savings account that has a lottery element to it. You download the app, then transfer some money into the FDIC insured account (it connects to your bank account through Plaid). For every $25 deposited, you get a recurring ticket into a random number drawing that occurs every day. On Sunday evening, the final number is drawn for the week. If your numbers match, you'll have a chance to win prizes ranging from $0.10 to $10,000,000.
Unlike a normal lottery, you don't lose money. All the money you deposit is yours. It's a really fun idea that helps people save money and very similar the Premium Bond program that is run in the UK.
The more you save, the more tickets you get, which increases your chances of winning a larger prize. The idea behind these types of prize-linked savings accounts is to provide incentive to save your money. There have been other similar apps, but Yotta has made a splash with its $10 million prize.
So far it has done a great job of getting me to deposit money and check the app every evening to see what I may end up earning for the week. It is just plain fun to know there is a chance of a big prize!
Yotta Savings Interest Rate (APY)
High yields savings account (HYSA) have been consistently dropping their rates. My Discover Savings account was at 1% APY earlier in the year. It is now sitting at 0.50% APY. Current savings rate at Chase are 0.01% APY.
With Yotta, you'll get a savings bonus of 0.20% plus whatever prize money you end up winning. The rate of which the prize money pays out varies based on your luck, but someone smarter than me did the math in the comment of this post. Another person came up with similar numbers of 1.65% APY in theocratical worst case scenarios. Even that APY is substantially higher than any options currently on the market.
A screenshot of my winnings below shows that it seems their calculations are pretty close.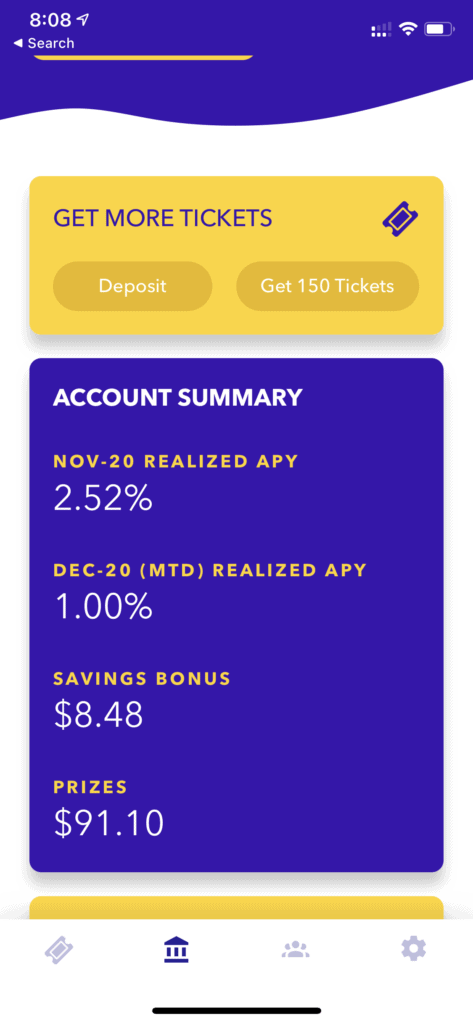 Is this legal?
Yes, the American Savings Promotion Act was passed in 2014 which legalized the concept of a "savings promotion raffle" across the United States.
How does Yotta make money?
Like a traditional bank, Yotta makes its money on the yield from the deposits. They may introduce other revenue generating products in the future.
Where does the prize money come from?
Yotta has an insurance policy that will pay out when the jackpot is hit. Their insurance partner also picks the Yotta numbers through a double blind system where they pick the numbers without seeing the user's picks.
How long does it take to get my money out of Yotta?
It takes about 2 business days to have the funds settled once you initiate a transfer out of Yotta, similar to other ACH transfer times.
Where to learn more
Yotta's website as a FAQ section.
The founder of Yotta recently did an AMA (Ask Me Anything) question and answer session on reddit.
There is a thread on Hacker News where the founder answers some questions.
Conclusion
Yotta Savings is a easy to use app. The concept is easy to understand and the results are fun and financially rewarding. Definitely worth putting some money in to see how well you fare. And remember, the code: INFINITEDISCOUNTS and gets you 100 free tickets.
Looking to an alternative to Yotta?
Check out PrizePool. It is another FDIC insured prize linked savings account similar to Yotta. Use referral code 4VN6N to get a 10% bonus on all your prizes (You may have to enter the code in manually during the sign up process).
According to this screenshot from the app itself, the APY for PrizePool is even higher than Yotta Savings. 7.36% APY for $25,000.