Bitcoin just hit a new all time high of $30,000 at the time of this writing. It was around $7,000 at this time last year in 2020.
I've been missing out on the gains for too long, so I'd thought I'd dollar-cost average in with some daily $10 purchases this year. However, I noticed that the Coinbase fee would be $0.99 for each daily purchase, which is a bit too high for me. I decided to look into other options for automatic Bitcoin purchases and found the Square Cash App to have the best combination of low fees and ease of use.
Exchanges capable of recurring buys:
Below are places you can buy Bitcoin (BTC) automatically at regular intervals (daily, weekly, every 2 weeks). The list includes the transaction fee the exchange will charge you when you make a recurring transaction of $10.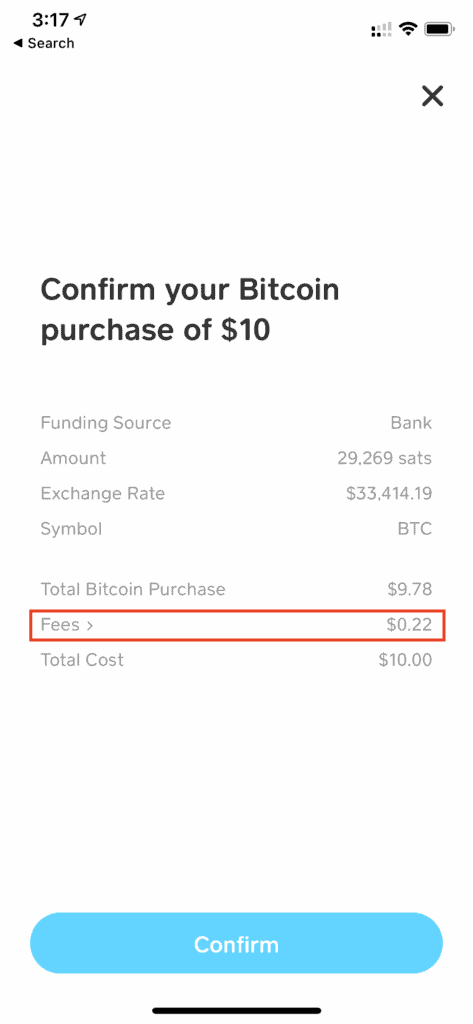 The lowest fees
As you can see above, the Square Cash app has the lowest fees for a recurring buy. The Square Cash app is similar to Venmo. It allows you to send money to your friends through a mobile app, but it added a feature to buy Bitcoin through your debit card in 2018.
The example fee above was for a $10 purchase of Bitcoin. The purchase of Bitcoin occurs at the same time every day. Fees vary depending how much you decide to purchase. The fees go down as you make a bigger transaction. For example, instead of a $10, you decide to make a $500 purchase of Bitcoin instead. The resulting fee would be $8.87 on the Cash App, which comes down to 1.77% of the transaction price instead of the higher 2.2% when it was a $10 transaction. This means you get $491.13 worth of Bitcoin, and the $8.87 goes to Square as a transaction fee.
The other exchanges also have a variable percentage fee system. The bigger the transaction, the less of a percentage they take. They also make money on the spread.
For low dollar transactions, Square's Cash App is the winner. They allow for getting the cheapest priced bitcoin with minimal fees. If you sign-up with my link (or use code DGTDKMT ), you will get $5.
If you are looking to buy other cryptocurrencies like Ethereum, you'll have to look elsewhere, like Coinbase and Gemini. Square only lets you buy Bitcoin at this time.
Places where you can buy Bitcoin, but do not have an automatic recurring option:
There are number of other places you can go to in order to buy Bitcoin, however, you would have to manually place the trades if you want to buy something each day. They don't have an automatic recurring option, and some do not allow you to move your cryptocurrency out of your account.
If you are curious about cryptocurrencies, these are an easy way to test the waters:
Robinhood is a good way to start since there are no fees. Its app is easy to use and you get a free stock when signing up through this link.
Why do recurring buys?
Recurring buys lowers your risk of buying at an all time high. The term for this strategy is dollar-cost averaging (DCA). Instead of placing large sums of money all at once, you make purchases of a single asset at regular intervals. This is often done with stocks and mutual funds, but can be applied to cryptocurrencies as well.
The idea is that if you put in a set amount money at regular intervals, such as daily, weekly or monthly so that you are not always buying at an all time high. You don't need to worry about timing the market, because the next day you might get a really good deal on the Bitcoin if the price dropped. You'd be able to pick up more Satoshis for that $10.
If you take a look the year 2018, if you bought $3650 worth of Bitcoin at the beginning of the year, you'd be down 69% or so by 31 December 2018. But if you put in $10 every day for the whole year of 2018, you'd be down only 43%, while still spending the same $3650.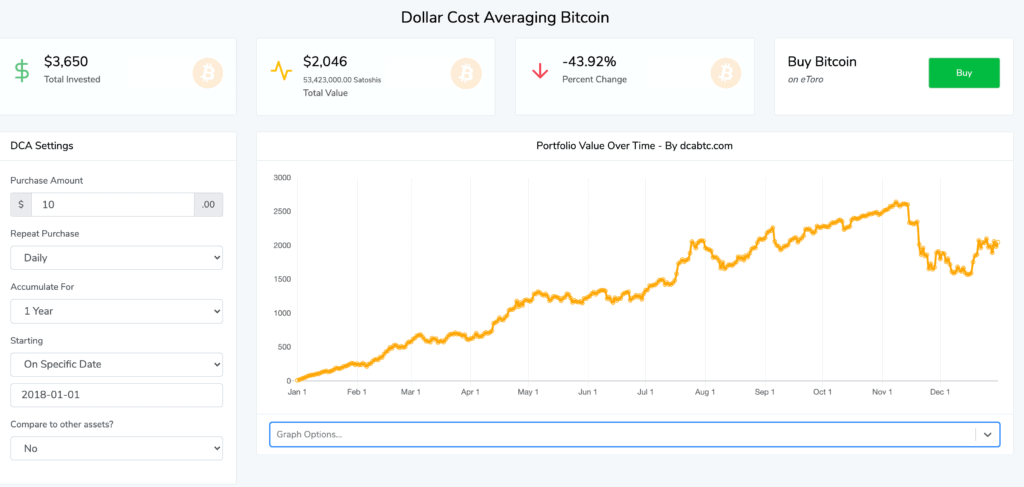 Of course the opposite is true as well, you can miss out on higher gains. The advantage of dollar-cost averaging is that you are not being stressed about every trade, and you can also avoid that feeling of FOMO (fear of missing out), which often causes bad decisions, like buying at an all time high.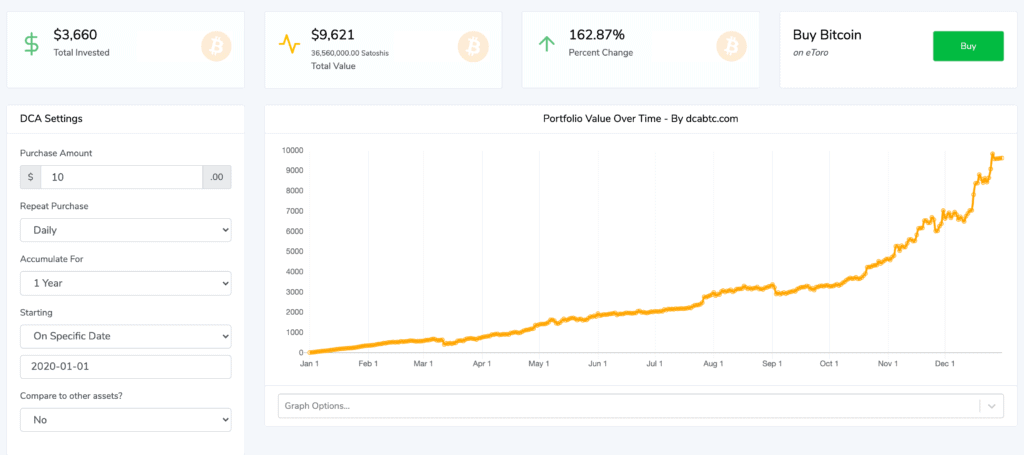 However, don't take any of this as financial advice and as always, do your own research.
The above charts came from this site that shows you the historical gains or losses of dollar-cost averaging bitcoin.