The bottom line first (TL;DR)
Yes, I like Mint Mobile. You should consider getting it too if you are looking for inexpensive and reliable service.
If you have good coverage when using T-Mobile, Mint should work well for you as it runs on the same network. I've always gotten good coverage and speeds in urban area. It can get a bit slow in suburban areas, but I detail a solution below.
Set up and porting your phone number is easy, but the best parts are the low prices and generous referral rewards. I've been able to get a free year of service thanks to referrals and American Express credits. I provide more details on that below.

I've hopped from various carriers over the years. I've gone from Cricket to Sprint's free deal to finally settling on Mint Mobile. I'm glad to say I'll be saving staying on this network a while.
What I like about Mint Mobile
The price is great! It's $15/month for the first 3 months. You get 3 GB (Mint has since upgraded this plan to include 4 GB of data!) of data with that plan. Since I'm on Wi-Fi most of the time, I usually go just past 2 GB of data usage. If I go on a road trip and happen to play lot of streaming music or podcasts, I can add an extra data to the plan (1 GB for $10 or 3 GB for $20).
After the introductory pricing, you can pay a year up front to get the same $15 monthly price, otherwise you can buy service in 3 or 6 month chunks.
The referral program is amazing. The first person you refer gets a $25 credit. The second person you refer will apply a $30 credit to your account. So after referring two people, you already have $50 in credits.
Your third referral gets you $35, fourth is $40, and the fifth person you refer gets you a whopping $110. After that, the cycle starts over.
You max out at 10 referrals a year, which comes out to $480 in credits. A little further down in this post, I detail where I post my referral links.
Speeds are good. I live in West Los Angeles, CA and my speeds are quite respectable at almost 30 Mbps. Below is a screen shot of a speed test on an iPhone 11.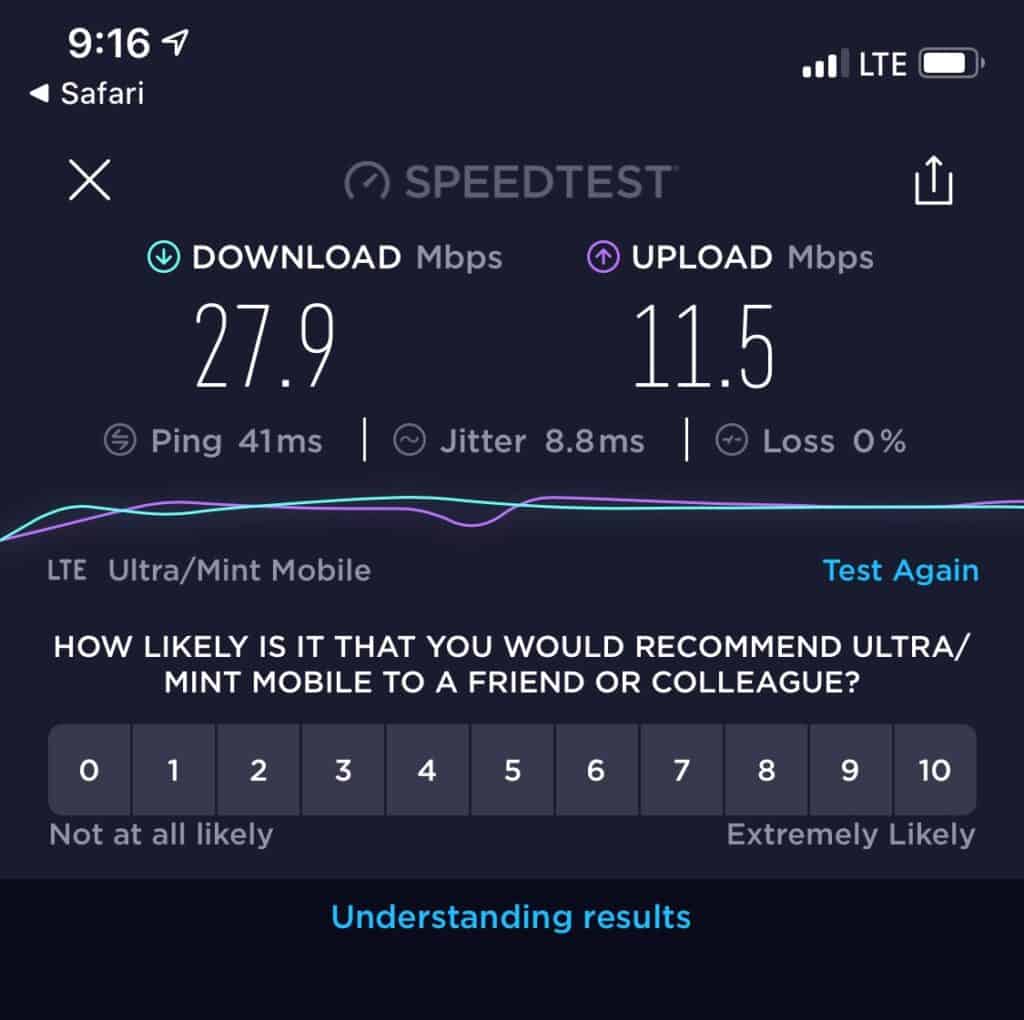 Mint Mobile is also capable of 5G. People on reddit have posted some impressive speeds. The screenshot below shows 342 Mbps in the Washington DC area (Silver Spring, MD).
You can use your phone as a hotspot. Unlike other carriers that restrict your hotspot usage, Mint allows you to tether your laptop to your phone and share the data connection. Super helpful since my internet is pretty flakey.
Good customer service. I've had good experience with their customer service. They are very responsive via chat and answered questions quickly. Didn't have to go through a bunch of menus to get to a live person.
Easy set up. Just head to the website, choose a plan, and Mint will send you a SIM card kit. It was super easy to port my number over. Everything can be done online.
What I dislike
Since Mint Mobile is an MVNO operating on the T-Mobile network, it's data can often get deprioritized in favor of T-Mobile's own customers. This means that speeds can be lower in a congested area. I found it can get a bit slow in some pockets of Los Angeles suburbs.
It doesn't happen often, but enough that I have noticed it. I've found that a good solution is to sign up to a second data network through an eSIM provider. Some include:
You'll need an eSIM compatible phone.
Using an eSIM when Mint is slow
I use an eSIM as a backup network. If Mint is ever too slow, I switch over to my eSIM through DENT Wireless. It uses either the AT&T or Verizon towers, but routes packets through a Polish provider called Play.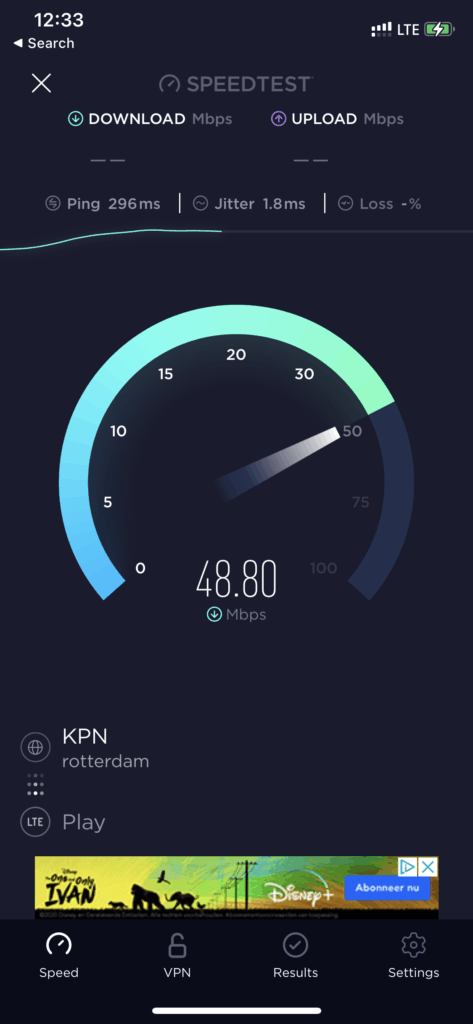 As you can see in the speed test above, the download speeds for DENT are 48 Mbps. The data is routed through Rotterdam, so the pings are a bit higher.
It costs $4.99 for 1 GB of data and you have a full year to use it. Other eSIMs require data usage within a month or so.
Having that eSIM available as an option is great for those who worry about slow data speeds. DENT is also great for travel as it works worldwide.
How to get free cell phone service
As mentioned above, Mint has an amazing referral program. Once you sign up, there will be a dashboard that will provide you with a unique link. You can share this link anywhere that you can share content. Here are some places where I've posted my link:
Instagram comments
Search Twitter and respond to people looking to sign up to Mint
Reddit. There is a specific subreddit for sharing Mint referrals
Submit to coupon sites
The referral dashboard below shows the referrals I have earned using the methods above. As you can see, I'm one referral away from getting a full year free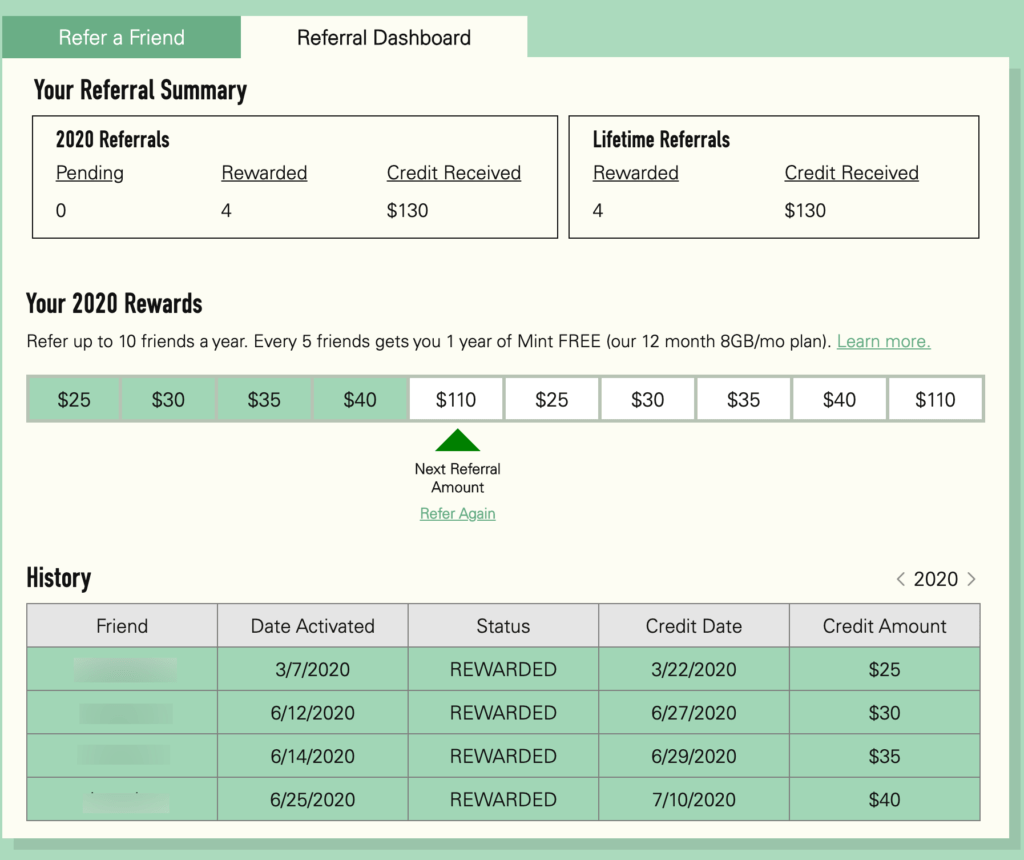 Another way I was able to earn discounted cellular service was to take advantage of an American Express Business Platinum Card special offer where the provided a $20 statement credit for each month until Dec 31, 2020. You can take advantage of the program by using Mint's Wallet feature. Load up your wallet with $20 every month, and American Express would credit your account after a few days. Unfortunately this method may not be repeatable unless they decide to run the promotion again, but am mentioning it heres since it is something to keep your eyes peeled for.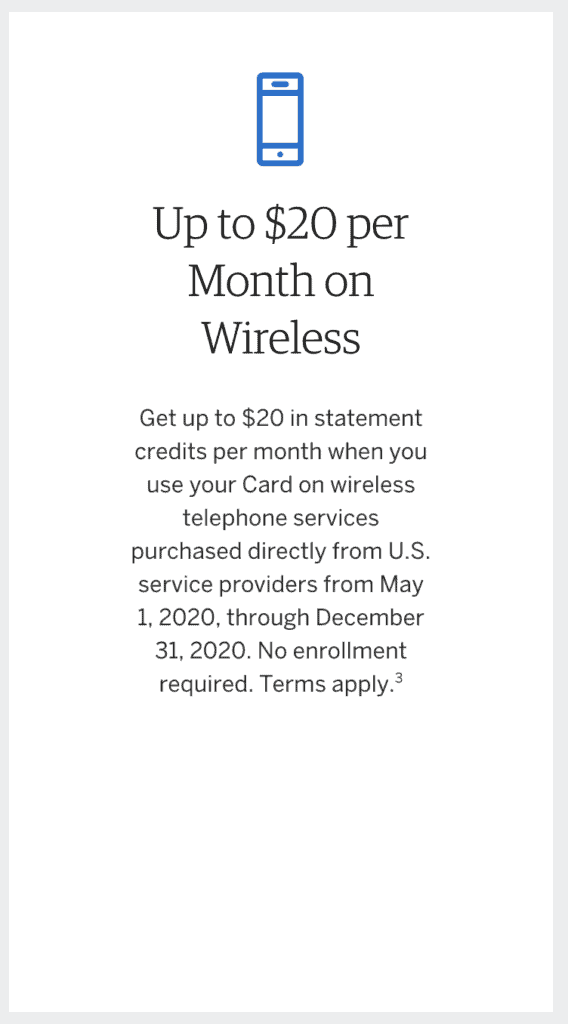 Where to do more research
If you'd like to dig into Mint Mobile or other low cost carriers, these resources can bel helpful: