Buying the Herman Miller Embody at a discount
Great office chairs are expensive. Yes, you can find office chairs on Amazon or at your local Staples store for $150. They are perfectly adequate, but if you want a chair that you can sit comfortably on for 8+ hours a day, have a 10+ year warranty, and has been engineered to ergonomically adjust to your body, you'll have to spend quite a bit more.
I have been looking for the perfect office chair for many years. I have gone through Steelcase Leap and Think chairs. I tried out the Humanscale Freedom for a few weeks. I've sat in Aeron's at work and for the home used a Haworth Zody for a decade. I recently decided to upgrade with a new Herman Miller Embody. I provide a short review of the other chairs compared to the Embody a bit further below.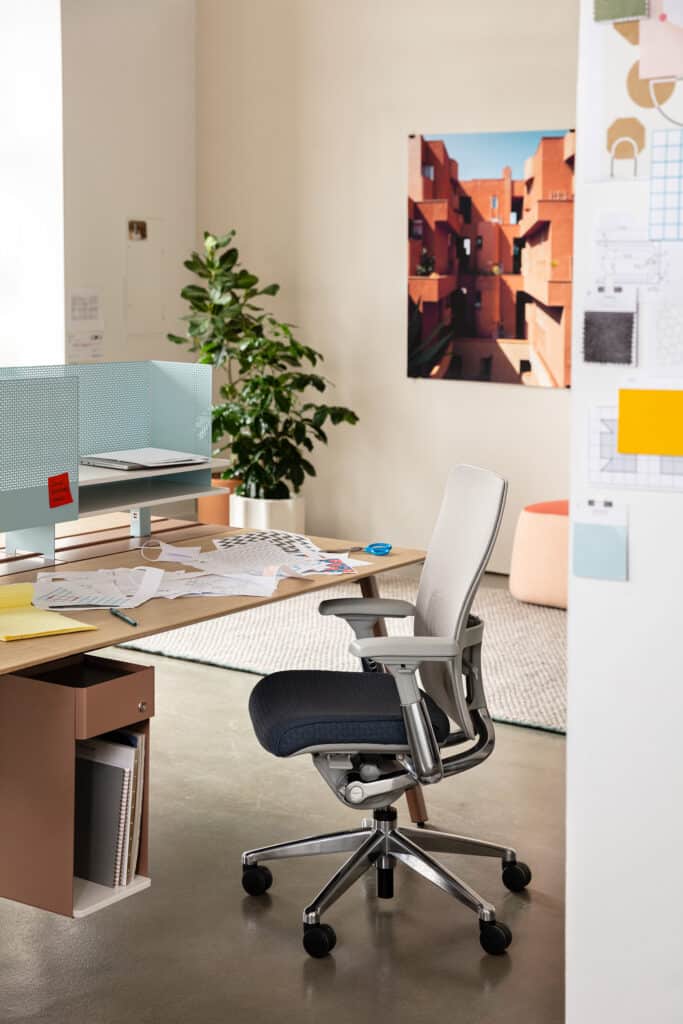 Herman Miller's new collaboration with Logitech has created the "Herman Miller x Logitech G Embody Gaming Chair" with some extra flourishes to the original. There is a nice looking blue pop-color that you'll find on the seat back, arm rest buttons, and height adjustment lever and some ridges in the fabric with additional branding. What got me interested in the purchase was the additional padding that would smooth out the protruding individual "pixels" of the chair seat. See the video below for an overview of the chair.
The result of the Herman Miller x Logitech collaboration is a chair that costs $1495 +tax. This is a bit of a steep price tag, so during my purchasing research, I found a few ways to avoid the pain of paying full price on an Embody chair (a lot of these methods will apply to other office chairs as well).
There are a few ways of getting a good deal on this chair:
Be in the market for a chair when Herman Miller is running a promotion. Whether this when they have coupon codes available, or a semi-annual sale (spring and winter).
Use a credit card sign-up bonus to offset the cost of the chair.
Live near a Design Within Reach Outlet Store and pick up a chair that might be slightly damaged for $800-$1000 or maybe less. They also have an eBay store, but it is better to call your local outlet to see what they have in stock.
Purchase from an authorized dealer. You can often get brand new chairs at 20% to 35% off retail price, but they often do not have a return policy. You'll get a chair for around $1000, but you may not be able to return or have to deal with a restocking fee if you end up not liking the chair. These dealers usually work with large corporations looking to fill up their offices with furniture.
Buy a used one from an office furniture liquidator. The liquidators buy from failed businesses or those looking to upgrade their offices and resell the individual pieces. Prices for high-end used office chairs usually range around $250-$350, but can vary depending on location and city. Might be difficult to find a newer model chair with this method.
Keep an eye out on classifieds or local marketplace sites like Craigslist, Offerup, Nextdoor, Mercari, or Facebook Marketplace. Office liquidators often list there as well. These chairs will be used, but you may get lucky and find a new one.
What I ended up doing
I had always bought my office chairs second-hand from an office liquidator. I would walk around their warehouse, check out a few chairs, and negotiate a price. You can usually get an extra 50 bucks off or so by paying in cash. If you ever find one too dusty or a slight stain, they usually have a steamer or cleaning supplies to freshen the chair up. Generally, Aerons and Leap chairs in the San Francisco and Los Angeles area would go for $250-$350 used.
Since the Embody Gaming Chair was so new at the time, it had not had the chance to reach the second-hand market. I had also not yet had a chance to sit on an Embody chair in a showroom, and well, there is a COVID-19 pandemic raging, so I was looking for an online retailer that offered free returns so that I could try it out and see if I liked it before committing.
The chair itself is is heavy at 51 pounds. It comes fully assembled. With the shipping box, the total weight is 63 pounds. Shipping this thing yourself would not be cheap. Getting free shipping both ways is a really good deal.
I bought my chair directly from Herman Miller to take advantage of their 30 day free trial, which includes free shipping on the returns. I figured I could try out the chair, make sure I liked it, and use the 30 days to explore cheaper options.
Having just missed out on the coupon codes and sales, I opted to open up a new Chase Freedom credit card to take advantage of the $200 sign-up bonus. While it was not a true discount on the chair itself, it offset the price by a nice 13%. You can definitely find better credit card sign-up offers out there, so search around. Just be sure you can meet the minimum spend requirements dictated by the card (buying the chair met the Freedom's spending requirements).
The chair shipped pretty quickly via FedEx and arrived in 5 days. I unboxed it immediately. Within the first few days, I was convinced this was the chair for me. I found that the Design Within Reach Outlet in Oxnard, CA had some slightly damaged chairs for a few hundred dollars off.
The thought of driving an hour to the store and back and realizing the chairs they had in stock had damage that I couldn't tolerate living with just didn't appeal to me. If I did decide to buy from Design Within Reach, I would've had to figure out how to put it in my car and haul it up the stairs to my apartment. Sure, I could've used Lugg (use code LG392197 for $20 off your first Lugg), but that would've added to the cost. I scrapped that option. It was a lot of extra work and time, but it may work for you.
I had also reached out to a few Authorized Retailers, but the wait time for the chair was 5 weeks. I was already really liking the chair, and frankly, I felt bad about the idea of having the FedEx guy hauling the chair back down the stairs so I could save a few extra bucks.
I ended up keeping the Embody Gaming Chair that I bought directly from Herman Miller's online store.
My history of chairs
My obsession with finding the perfect chair started when seeing a photo of a Bodybilt chair in Wired Magazine in the late '90s. It was described being designed to emulate the perfect stress free posture where your weight was evenly distributed across the chair. It retailed over $1000. There was no way a high school kid could afford that.
I had been using my Haworth Zody chair in my home office for the last ten years. It had followed my on numerous moves from city to city and was starting to show its age. I had purchased it off a liquidator on Craigslist while I was living in San Francisco. There was still time left on the 12 year warranty so I got the seat cushion and arm rests replaced. The foam in the seat was losing its loft and the plastic in the arm rests were a bit cracked and started exposing the inner the foam.
One of the great benefits of these expensive chairs is the warranty. Find a chair you like, and keep it for life. I found an authorized dealer and they sent over a technician to repair the chair. I didn't have to leave the house.
With the chair repaired, I was able to sell it and begin shopping for its replacement.
I had already been through the usual suspects of high-end office chairs and the Embody was next on the list. When I learned that the Logitech collaboration meant a little extra padding on the seat, I was sold.
You will get a lot of polarizing reviews of the chair. Since it is so expensive, everyone expects perfection. One of the biggest complaints are the lack of adjustability of the arm rests. I do not find them to be a problem. While, yes, they could be smoother when adjusting them side-to-side, I've found that I rarely have to adjust them. They stay nicely fixed in place most of the time for me.
I found there a short break-in period for these chairs. The parts actually start to subtly mold to your body. If on initial sit, you find the chair a bit stiff, give it a few days to settle around your seating style.
My seating style tends to range from being upright, to slouching, to sitting with a leg under me.
I also thought I would want a headrest, but the back support is sufficient and haven't felt the need to have one.
Of course, everyone will have a different experience to chairs. For reference, I'm 155 pounds and 5′ 7″ on a good day. The trousers I wear have a 30″ inseam.
Embody vs Haworth Zody
I prefer the seat of the Embody to the Zody. The Zody seat was foam and after a few years, the foam would compress. You could start the feel the metal parts of the seat through that compressed foam. With the Embody, the seat is almost like a suspension. It is made up of a matrix plastic "pixels" that hold you up. Think of it like a more advance version of a mesh chair. You won't be suffering from any compressed foam in this configuration.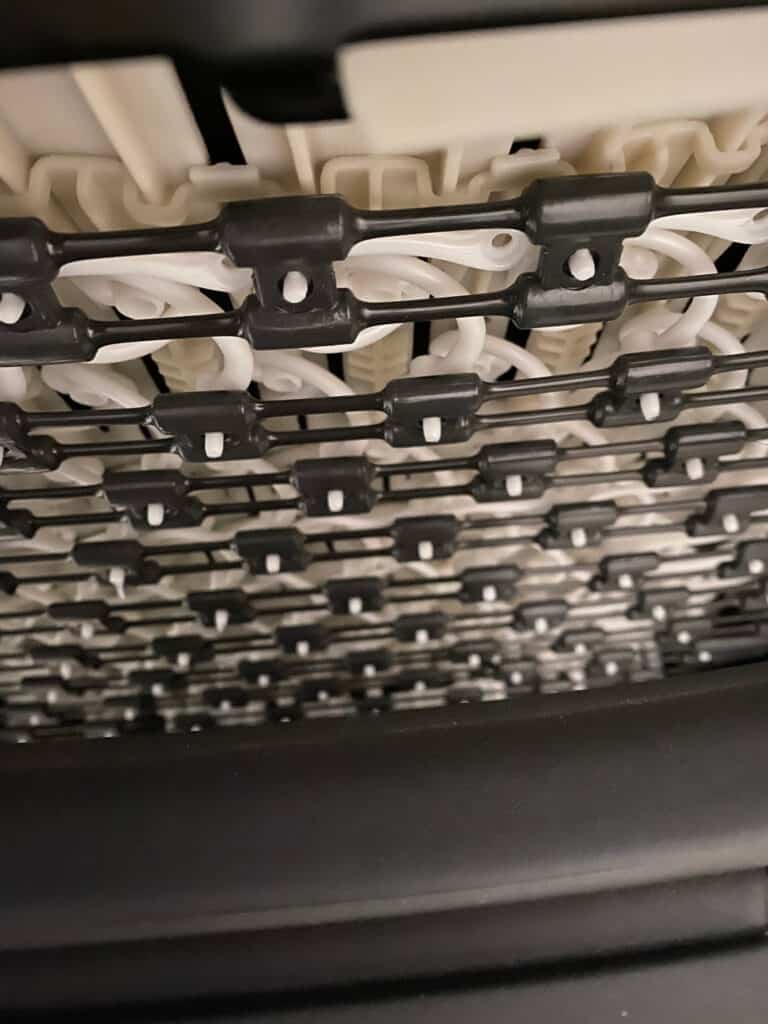 The Embody does lack the seat tilt options of the Zody chair. It was nice to have, but honestly never really used it.
The seat back of the Embody is also extremely supportive. It is matches the alignment of my spine exactly. With the Zody, I'd have to fuss with the lumbar support as it alway slid out of position. Even with it in position, it didn't feel all that impactful.
Embody vs Aeron
I used a Herman Miller Aeron for a few months at work. While the mesh kept everything nice and breathable, the seat itself wasn't comfortable. Mostly because when I sat with one leg tucked under me, my ankle would press against the hard plastic lip of the Aeron seat. Major deal breaker for me.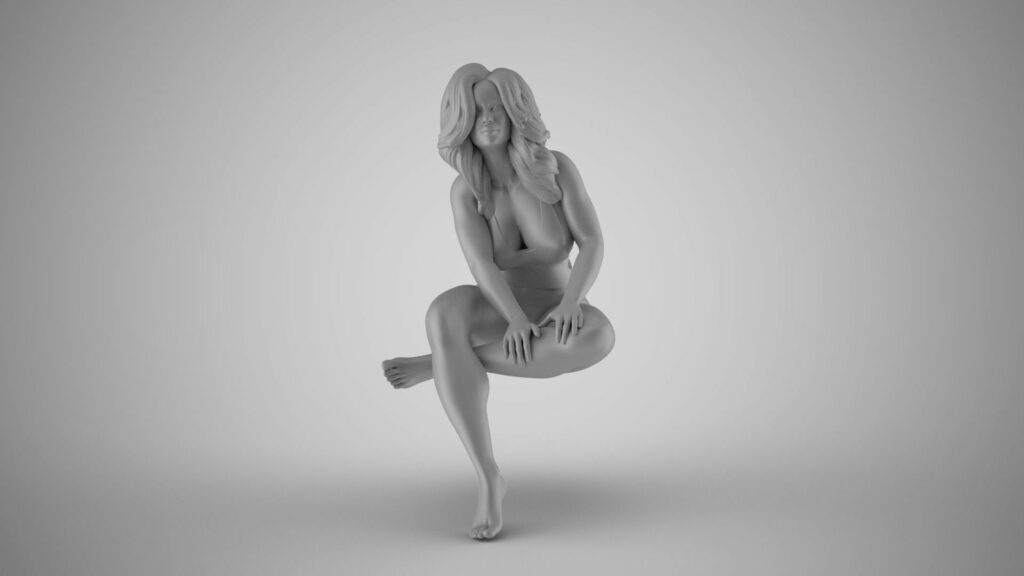 Embody vs Steelcase Leap
Many people love the Leap chair, but it just wasn't for me. I had used the V1 version of the chair for a few months, but always felt very restricted in it. The chair itself was large, but I always felt constricted sitting in it. Not sure why, but I could never get it adjusted to how I wanted. There was also a lot of thick padding. It was firm enough so you didn't sink in, but there was also a lot of it so that it didn't really move with your body. The second version of the Leap might have solved this issue.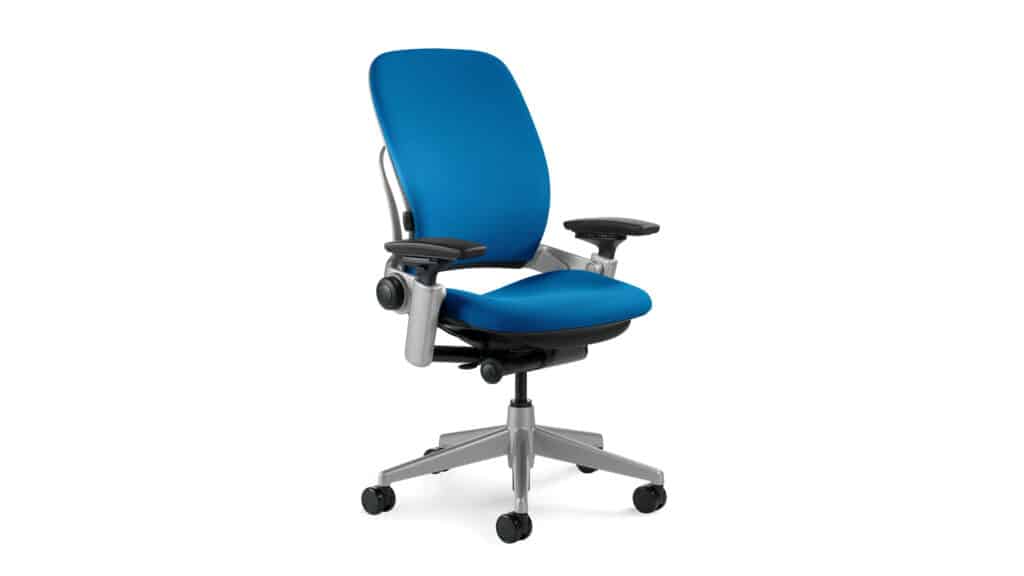 The Embody's pixel system in the back support and seat really solve this issue well. It moves in many different directions as you shift your weight throughout the day and sometimes really does feel like it is augmenting your body in some way.
Embody vs Steelcase Think
I preferred the Think vs. the Leap. Think has a mesh back, and its arm adjustments were super smooth. The earlier versions had thicker and softer seat padding which was nice. The newer versions use more plastic and less metal.
A nice feature to these chairs is that you can retrofit a headrest to the back.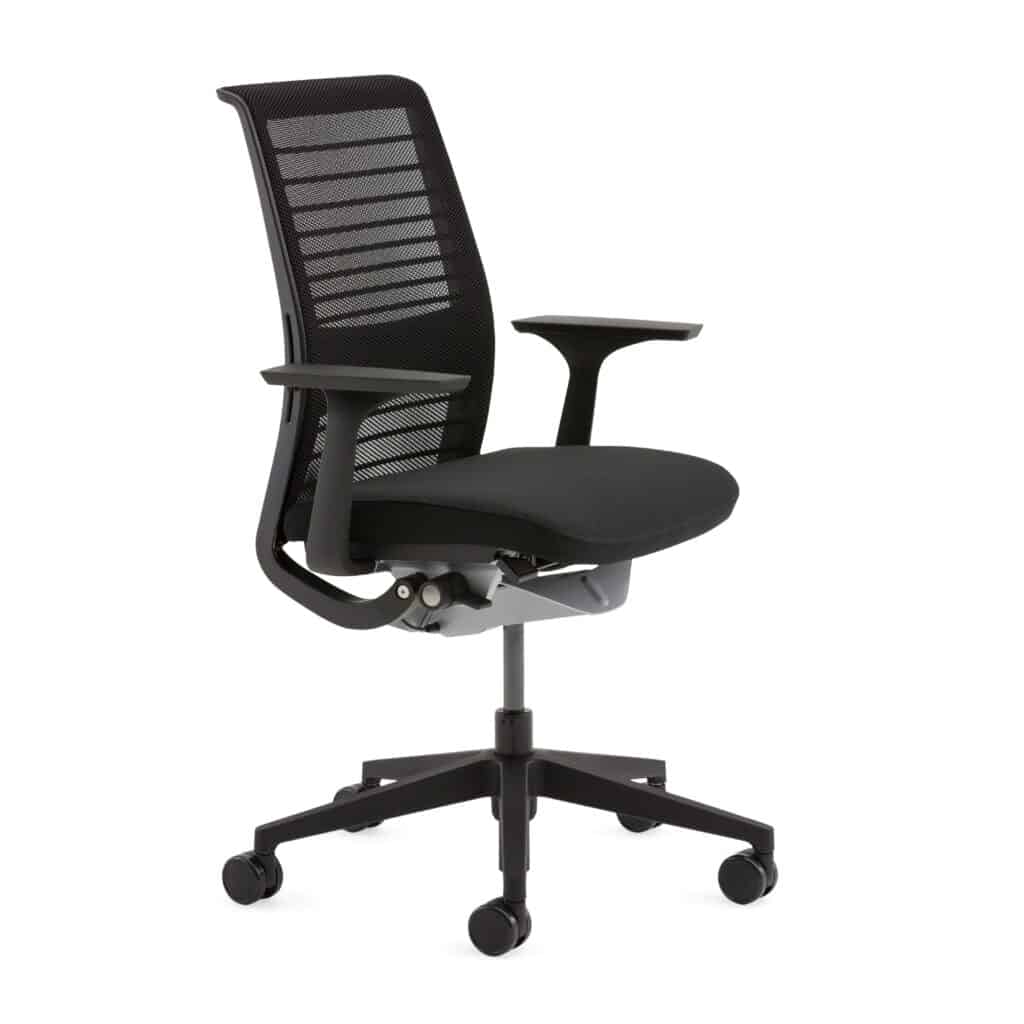 The issue I had with these chairs was the seat height. Being a bit shorter, I needed a 16 inch or lower seat height. At 16.5 inches, it was just tall enough to bother my hip flexors when I was sitting in extended periods of time.
The Embody has a seat height of 16 inches. Being a half inch lower makes all the difference in comfort for me.
Embody vs Humanscale Freedom
The Humanscale Freedom Chair, while amazing to look at, was also not comfortable for me. While the seat height is listed at 16 inches, I have a feeling the gel seat that I had did not compress enough for my feet to rest comfortably on the ground.
The Freedom also lacked any way to lock the chair in place. It claimed to be self adjusting, but it took a lot of effort on my part to keep the arm rests and back in place. They took too much of the manual adjustment out.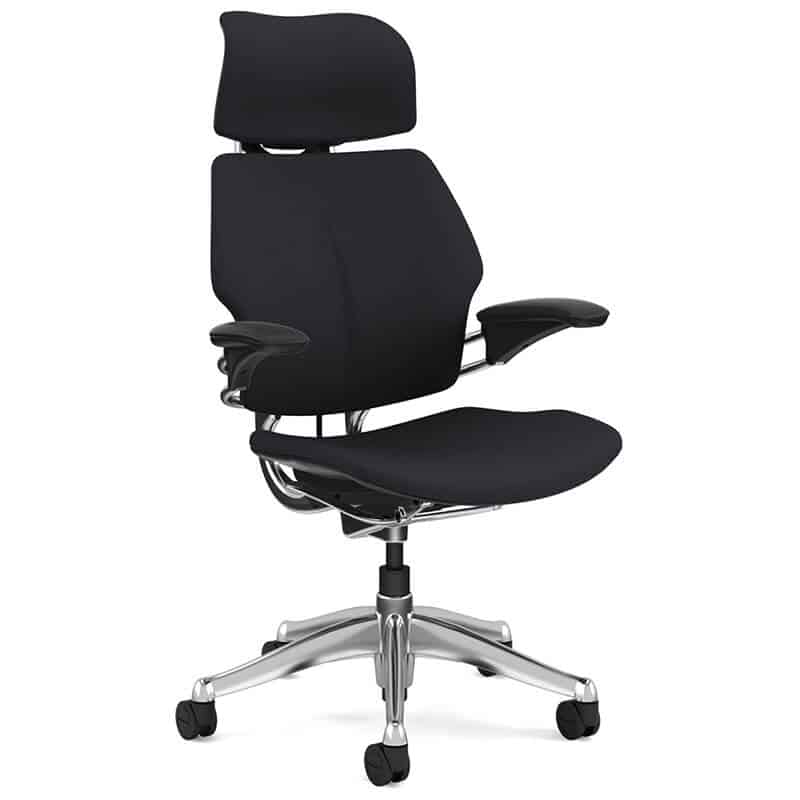 The Embody has all the tension knobs and adjustments that I need without being excessive.