Instead of buying new frames, get them repaired!
I didn't even know there were eyeglass repair services, so when I stumbled upon Fixmyglasses.com, I was quite excited. I wouldn't have to replace my aging frames! Don't throw out your busted old glasses. Get them fixed instead. Very happy to have used their service!
Fixmyglasses will fix your glasses through the mail. Their repair options include mending cracked bridges and temples through laser welding. They can repair all sorts of materials ranging from your run-of-the-mill plastic frames, to the fancy titanium frames. You can also just get your lenses replaced if you don't need a full repair, or have parts of your frames refreshed so they look and feel as good as new.
Sat on your glasses and broke them in a few different places? Fixmyglasses can repair them for you. I opted to get my old glasses refreshed with new temple tips for the ears, lenses, and nose pads.
They can fix your prescription optical glasses as well as repair sunglasses. I had a quick chat with their staff and was told they use OEM replacement parts, including ones for the Luxottica brands, such as Ray-Bans. It would be like getting a factory warranty repair minus the month-long wait.
If you want them to add a chain, retrofit your glasses with crutches , or add eye-pads to glasses that don't have them, they can do that too. It seems they are able to do just about any glasses modifications you can think of. They don't necessarily advertise it on their page, so it is best to ask. Someone actually picks up the phone there.
Where you save
The big money saver here is paying $40 to fix your glasses instead of having to spend $1200 on a brand new set of frames to replace your broken ones.
Getting a new set of prescription eyeglasses from your optometrist can cost a few hundred dollars, especially if you buy a brand name frame, such as Oliver Peoples. Include the cost of high-index prescription lenses, anti-reflective, and UV coatings and that total price tag can easily go up to $1200 and beyond. I often keep my glasses for a decade or more, so paying the high initial price is often worth it for me, assuming I don't break them.
I have looked at brand name alternatives such as EyeBuyDirect, Warby Parker, and Zenni Optical, but I worry about the quality of the lenses. None of them offer Trivex lenses, and it is difficult to tell if they are able to do progressives well. You'll also have limited options when it comes to coatings as well. For instance, Warby Parker doesn't do blue-light blocking on their high-index lenses.
One strategy is to get the less expensive frames from an online retailer, and then send the frames into Fixmyglasses to get the cheap lenses swapped out for higher quality ones provided by Fixmyglasses.
How fixmyglasses.com works
To get your glasses repaired Fixmyglasses.com, head to their site and click on the "New Repair" button.
Fill in your contact info, including your mailing address.
You can let them know what needs fixing in the comments, though it doesn't seem necessary as it should be obvious when you send your glasses in.
After you submit your form, they will email you with a pre-paid shipping label and packing instructions.
Follow their instructions and send in your glasses. So far, no money has been exchanged yet.
Once Fixmyglasses receives your eyewear, they will give you a quote on the repairs via email. They will give you a list of services with its associated price. Just pick the one you want, enter payment info, and they will get started on repairs.
Once the repairs are done, they will mail the glasses back to you. They don't charge shipping.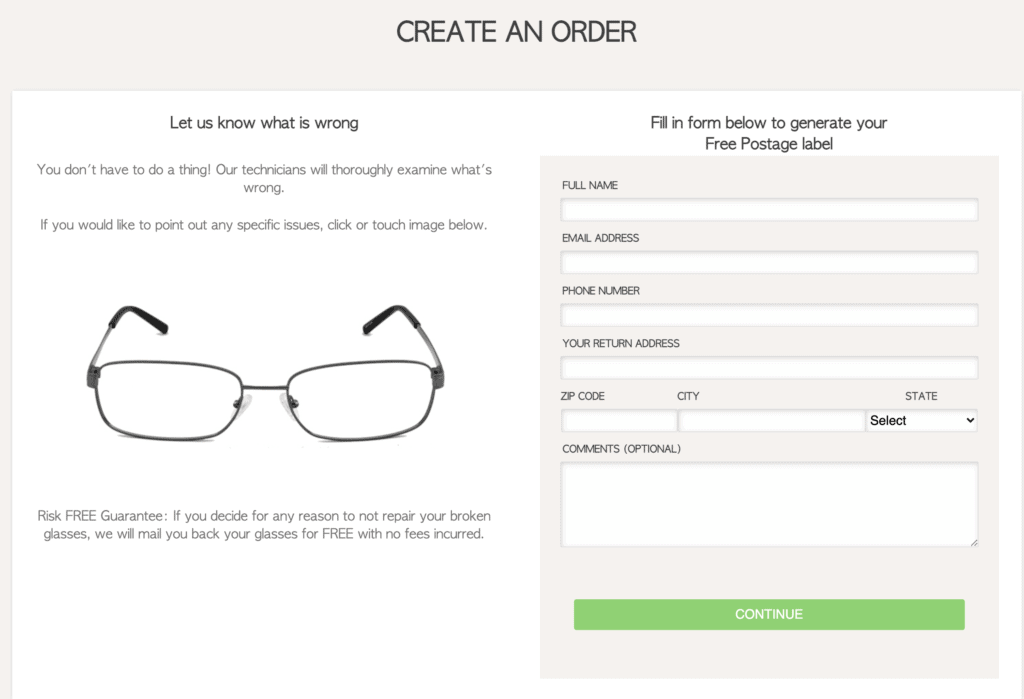 If you decide you don't want them to perform the repairs, you can just let them know, and they will return your un-repaired glasses back to you at no cost.
The results
I had an old pair of browline glasses that I wanted refreshed. While there were no broken pieces, the lenses had crazed from a bad anti-reflective coating and ear pieces on the temples were flaking from age. The nose pads had also yellowed. Below is the assessment I received with the various pricing options.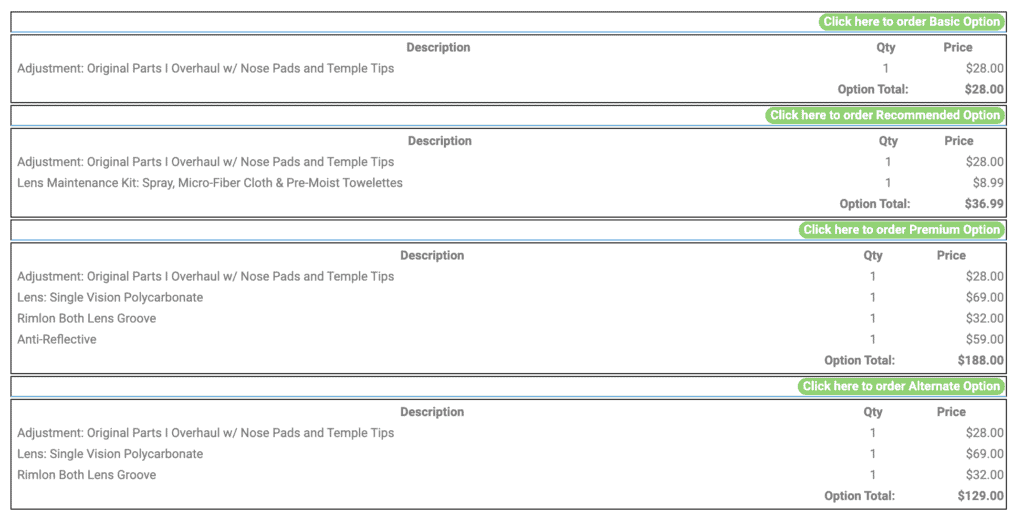 While most repairs cost around $40, I was replacing a lot of pieces that would make my glasses as good as new. I opted for the premium $188 option which would replace my lenses. A few days later, I received my 10 year-old glasses as good as the day I bought them!
Unfortunately I don't have before and after pictures of my glasses refresh as I wasn't expecting to write a review of the company, so instead, here are some before and after pics I grabbed from their website.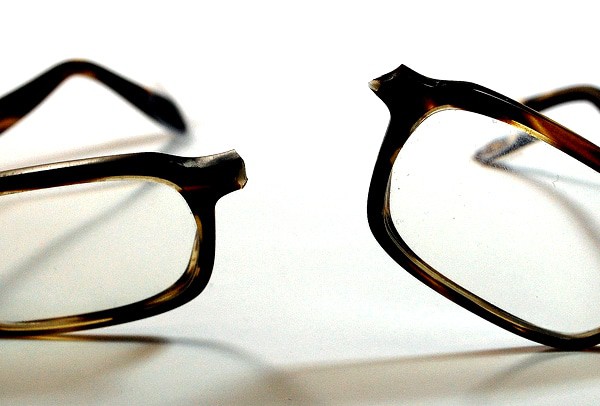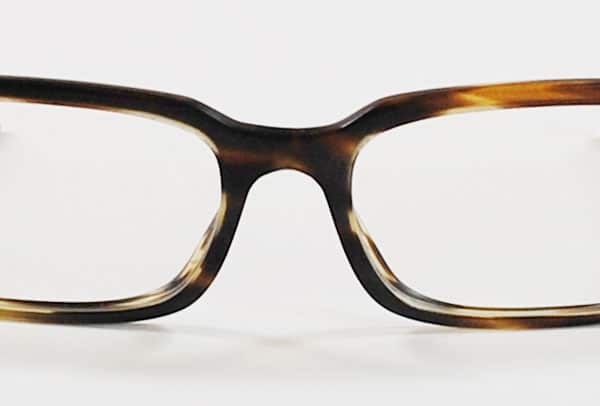 The user experience
The Fixmyglasses website can be a little difficult to navigate, but it is worth the trouble as the repairs are stellar.
It isn't completely clear how the process works, but after a quick call to their phone number for clarification, I felt pretty comfortable with sending my glasses in.
They are also working on updating their site, but compared to the competition, it is a lot easier to use. Other glasses repair sites require you to fill out and print a PDF manually. Others do not offer a prepaid shipping label either.
To get my spectacles to Fixmyglasses, I just packed them into an old Amazon shipping box, slapped the provided prepaid label on, and then scheduled a free USPS pickup . After that, I left the package for my mail carrier to pick up. It was really convenient not having to go to the post office. You can also drop-off the package to any post office.
Since I live only about an hour away from the Fixmyglasses' Fullerton, CA address, the glasses took only a day to get to them via USPS. If you live on the east coast, it may take a few days longer for the First-Class package to arrive.
I was then emailed my repair assessment with price quotes. There were a variety to choose from. Once I selected the one I wanted, I was taken to a payment form. Up until this point, I haven't had to exchange my credit card info. The shipping and assessment were both free.
After I submitted my payment, they started on the repair. I was emailed an order number that I could enter into the website to check on the repair status. I didn't have time to actually try it out as a few days later, my glasses had arrived to my apartment as good as new.
The whole process took about a week. 1 day to ship the glasses to them. Another day to agree on the quote. About two days to do the repair, and two days to get the package shipped back. Add a few extra days for shipping. I happen to live only an hour away from their repair lab.
Was quite surprised at the speed and quality. Was so happy with the repairs, I sent my sunglasses in to have polarized lenses put in.
Never had to leave the house to get the glasses repaired. Particularly important to me in this time of COVID-19.
The customer support
The customer support with Fixmyglasses is great. They answer the phone which is quite a rarity these days.
The only time I needed to contact them was when I had an initial question about the process. Super easy to get through and have my questions answered.
With my second order, everything was done through their built-in quote and e-commerce system. I didn't have to have direct contact with anybody.
Conclusion
Highly recommended. Fixmyglasses not only fixes broken frames, but they are a full service operation that can replace lenses, refresh old glasses, and also add customizations like nose-pads to glasses that don't currently have them.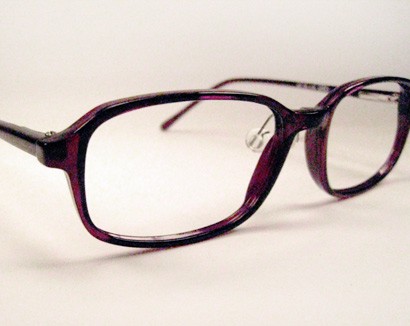 Their prices are fair and service is quick. They are very customer focused as well.